Increase Profitability with MachineStruxure from Schneider Electric
Machine builders like you are constantly looking for new ways to design and build more innovative machines in less time and at lower cost. The MachineStruxure automation solution can help.
The NEXT generation of MachineStruxure automation is a complete machine solution that provides flexible and scalable machine control, ready-to-use architectures, efficient engineering solutions, and comprehensive customization. It can help you meet your challenges for improved efficiency and greater productivity, as well as allow you to deliver added value to your customers throughout the entire machine lifecycle.
Maximize your business and machine performance with MachineStruxure
Ready-to-use architectures and function blocks
Tested, Validated, and Documented Architectures (TVDAs) are just one of the ways to help you reduce design time.
Whether your machines are simple or complex, Application Function Blocks (AFBs) make system design fast and easy.
Modicon M221 logic controller: class-leading performance for its size
The Modicon M221 logic controller offers best-in-class performance. Available also in book format, the Modicon M221requires minimal installation and offers tremendous versatility at a VERY competitive price.
Everything you need is embedded: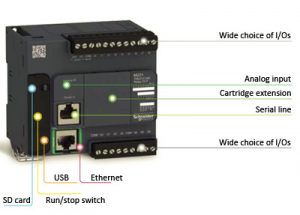 Flexible and scalable machine control
With this new range of Modicon logic controllers, MachineStruxure provides flexible and scalable machine control. Ethernet connectivity, USB port for programming, and an embedded Web server: it's all included.
Thanks to its high degree of flexibility, it's very easy to add additional modules – and still keep everything in just one configuration:
Safety module
TeSys™ SoLink motor starter
Extensive line of analog and digital modules